An Organisation with great employee experience makes individuals work as cohesive and happy teams towards the common purpose of the organisation.
Winzard Workforce Experience module includes 3 steps for analysing the employee engagement and wellbeing quotients within an Organisation:
A SaaS Based Survey that needs to be auto-sent to employees
Generating Insights by Winzard
Analysing the insights and Action Planning
The Survey is multilingual and anonymous so that employees can fill the survey without confusion and without worry. The Survey questionnaire which should take less than 5 minutes for the employee to fill and submit includes a set of fixed questions. However, a few sub-questions may be auto-triggered by the SaaS platform based on the responses to questions by the specific individual and need to be answered.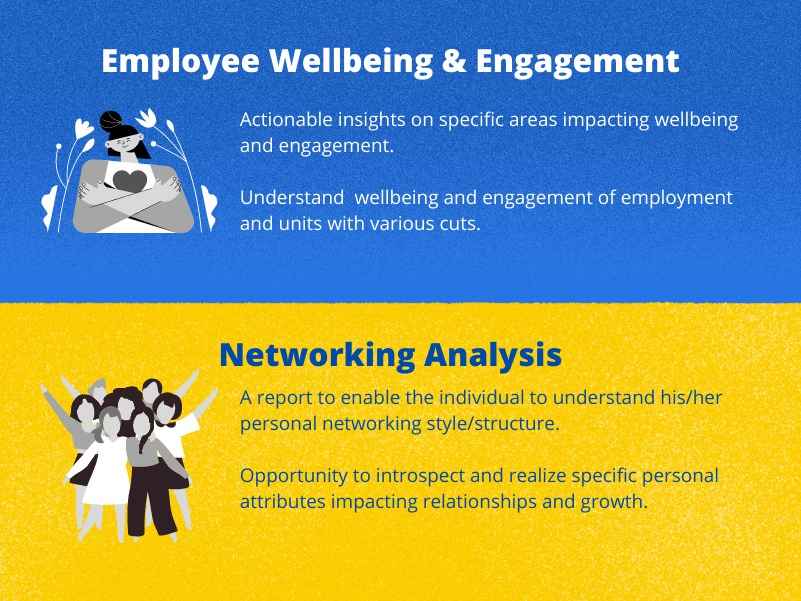 Our surveys cover and give insights on dimensions and areas pertaining to the organisation, process, culture, leadership, managers and individuals. These insights help leaders and employees introspect and plan conscious efforts towards specific aspects that need attention.
Gain from the actionable insights and make decisions pertaining to workforce wellbeing, engagement, and networking attributes. Winzard's Workforce Experience module is unique and gives pointed insights on key drivers of employee engagement and wellbeing. The overarching theme covers satisfaction, loyalty, advocacy, physical and psychological safety, social and professional wellbeing. The insights throw light on what the source is in addition to what and where the issues or blind spots are! The insights pertaining to the source of the problem makes this Winzard most effective and desirable. To ensure that the key observations result in effective resolution quickly, an Action Planning tab is provided in the product. The decisions that are taken as an outcome can be assigned to a specific person responsible along with details. The table in the tab also tracks progress on the Action like On track, Completed or Past due.
Workforce Wellbeing
Discover the factors driving workforce wellbeing. Dive deeper to recognize the blind spots concerning physical, psychological, social and professional wellbeing of your workforce, apart from other aspects.

Understand the source of each issue with the help of analytics to make decisions and plan action.
Workforce Engagement
Employees in all capacities have experiences that impact their engagement at their job and workplace.

Organizations with more actively engaged employees have a higher chance to succeed.

Winzard helps management discover blind spots and factors driving the disengagement. It also helps make action plans for improving engagement levels.
Strategic Networking
Networking is the art of making and maintaining relationships and can help in exchange of information, support and resources. A person's influence could depend on how diverse, dense, strong and connective his/ her network.

An assessment of the current network is done using a simple survey. Winzard gives insights into the network like hierarchical, functional composition etc.

The network affects achievement opportunity. Therefore, strategizing towards a well-defined network using the Winzard Solution will result in a smoother path for self and team success.
Request Demo