Our Clients
Winzard – A human resource management software company
"Enhance the growth potential of your organization with an HR management Software that can improve your company's capability and performance."
Our interactive performance management software and workforce experience platform empowers leaders and employees with great features and actionable insights.
We back it up with consulting and workshops to help companies bring about transformation through best people management practices.
We provide a simplistic approach in our offerings, be it in our intuitive and easy to use UX, features in our product, or our method of delivery.
HOW WE HELP YOU.
Winzard provides 5 remarkable solutions which enable the leadership and employees with actionable insights. The features are curated to individuals, supervisors, units, & the organization to achieve goals swiftly & efficiently.
Winzard Helps
Leaders
Set Direction

Understand Employees

Build Engagement

Mentor & Measure progress

Get Insights & Plan Action
Individuals
Plan Work

Communicate

Seek

Learn

Engage Effectively
TESTIMONIALS
What they are saying about us
Goal setting, employee ratings and talent management.It really helps to review the performance of the employees which is overall important for our organisation.

Priyank Gaglani
Lead Finance - Centcart Insurance Broking Services
Ease of use. Training method and service support.

Varun Pandey
Lead Sales (Pan-India) - Centcart Insurance Broking Services
It helps bring laser focus towards organization goals.Before using Winzard we were all busy and working hard but now we feel we are accelerating our growth.

Manish Gupta
Founder & CEO - Saksham Strategy Group (Easy Cloud)
When we started to learn about the software, we can see the evident change between Winzard and other software's, as this has very less tools which are very specific and also accessing them is easy.

Kalyan Ram
Great tool to track and improve team performance. Individual employee goal setting and tracking becomes efficient with Winzard. Because of this, employees have a lot of clarity on what to focus on. And it makes appraisals more data driven and less emotion driven.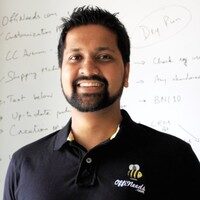 Srikanth Acharya
Founder & CEO - OffiNeeds
It's easy to use and I can effectively track goals of my team.
Brijesh Parnami
Founder & Group CEO - CentCart